"UNBELIEVABLE!"  That is the number one word that people use to describe their high volume dove shooting experience with our outfitters in Cordoba, Argentina.  You can expect several hundred thousand dove to fly by your shooting position every day while dove shooting in Cordoba, Argentina. The hunting fields associated with our Dove Lodge are without a doubt THE best dove hunting areas in the world.  At one of our 5 star lodges, just a short 200 yard walk will put you at one of our shooting stations adjacent to a roost that holds 15 to 25 million dove depending on the time of year.  The shortest distances to drive for the dove shooting is a 200 yard walk from one of our lodges.  Other lodges are anywhere from 10 minutes to 1 hour drives depending on the time of the year.  Normally, you will not drive more than 25 minutes but at certain times of the year, that changes.  Call us and we can explain that to you.  If having short distances to the shooting positions is important to you, please let us know.  We will make sure you are placed in the correct lodge for your desires.
You don't have to worry about limits when shooting dove in Cordoba.  The only limits in Cordoba dove shooting are your shoulder, your wallet and daylight.  On an average dove shooting day in Cordoba, a hunter will shoot approximately 1000 rounds per day at dove.  Many of our clients prefer to shoot 3,000 and 4,000 rounds per day.  It's up to you whether you want to join the 1000 club by shooting 1000 dove in one day in Cordoba.  The bottom line is you are the guest so the number of shells you shoot is completely your choice.  At the end of the day, I will guarantee you'll never see anything like this dove flight on your September dove hunt in North America.
At our beautiful Dove Hunting lodge, you'll be treated to internationally famous Argentina beef and other gourmet cuisine, fresh local produce and grand desserts that could win awards in an international chef competition.  Our "asado" or barbecue lunch consists of 3 or 4 courses of famous grilled Argentinian meats, luscious salads, vegetables and fresh baked bread.  All of this superb cuisine is complimented with Argentina wines or your favorite beverage as our lodges are open bar.  Once the staff learns your favorite beverage, you can have that beverage waiting for you on return from the shooting fields.
Based on your lodging needs, we have several different choices for lodges.  You can have private groups with as few as 6 hunters at one of our lodges, and we have lodges that can hold a group of 18 hunters in the same lodge.  Typically, hunters are housed double occupancy in one bedroom with a private bath.  Our lodges are extremely nice and have met the standards of hunters from all over the world.
If you like to shoot dove, eat great food, drink wonderful wine, spend time with friendly people and have an experience that is unsurpassed in the wingshooting world, you need to come high volume dove shooting in Cordoba, Argentina with us.  Email or call and let's get high volume dove shooting in Argentina off your bucket list.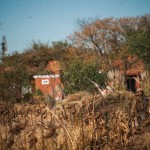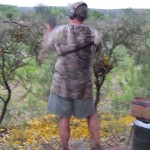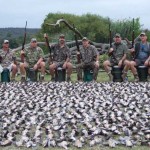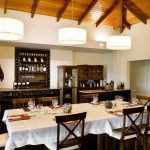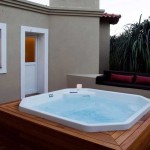 Pricing

January 16th to September 15th
Daily rate $595
Non Shooter $297
Extra night $250 (no hunting included)
September 16th to January 15th
Daily rate $450
Non shooter $225
Extra night $220 (no hunting included)
Additional Expenses
Gun Entry Permits – $140 per gun
Gun Rental – $70 per day
Cordoba hunting license – $65 per day
Shells – $13 per box of 25
Laundry Service – $10 per bag
Phone Calls – $1 per minute

Included:

Lodging at our Exclusive Dove Lodge
All Meals, with an International Menu and Fine Argentine Wines, Beer and Local Spirits
Open Bar with Premium Local Liquors and Beverages
Transfer From/To Cordoba Intl Airport (only parties arriving & departing together) – see transfer policy below
Meet & Assistance on Airport upon Arrival & Departure
Transfers To/From Hunting Areas
Professional Guiding Service & Bird Boys
Gun Cleaning Service
WIFI

Not Included:

Airfares
Gratuities Guides/House Staff
Non Hunting Activities such as tours and shopping trips
Separate Party Transfer To/From Airport – see transfer policy below
Itinerary Modifications by Passenger
Buenos Aires Transfers/Hotels
Daily Bag Limit:
No daily limit on Doves
Guest Capacity:
16 guns
Lodge Amenities:
8 air conditioned suites, private bathrooms, large outdoor hot tub, large living area with fully stocked bar
Extra Activities:
Horseback riding, Tours and Shopping trips
Travel Info:
International flights: from U.S. cities into Santiago Chile or Buenos Aires Argentina.
Connector Flight: 1 hour flight to Cordoba
Transfer to Lodge is approximately 40 minutes from Cordoba airport.
Transfer Policy:
Only two transfers are included: one for arrivals and one for departures (they apply to parties arriving together). For transfers on different schedules there will be an $80 USD surcharge (one way) per single passenger and $40 USD per person (one way) for groups (3 or more passengers).
Payment Terms:
50% deposit is required to guarantee booking. Final payment is due 60 days before departure. Please note this deposit is NON REFUNDABLE unless a replacement is found.